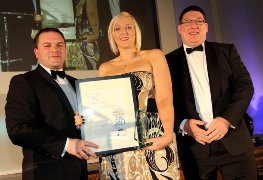 Wolfestone, the leading language translation and
voiceover service
provider, has ended a record breaking year with a series of prestigious business awards. The company, which offers
translation services
in almost all languages and dialects, enjoyed double success with two high profile awards in different ceremonies on the same night. The Swansea Bay Regional Business Awards gala ceremony on November 25
th
honoured Wolfestone's impact beyond the UK with its
International Business Award.
A category open to all sizes of business across all sectors was won by Wolfestone for a service which is helping to make South Wales a centre of excellence for translation work. The company's
innovative software
is web based and accessible from any internet browser, allowing clients to view the progress of translation work in real-time whatever their location and helping Wolfestone to break down barriers to international business as effectively as their translators are breaking down language barriers. Also on the 25th of November, Wolfestone co-founder Roy Allkin received the prestigious
Entrepreneur of the Year Award
at the IWA Western Mail Business Awards 2011. The award marked five years of outstanding progress for Wolfestone since Roy and co-director Anna Bastek set up the company in 2006. Roy believes the combination of the right people and the right systems is paying dividends for
Wolfestone
and their clients.
"I believe in our team and I believe in our service, and we constantly invest in both people and technology. The successes of the past year have led us to expand dramatically and our new staff are selected and trained to put clients first, working hard not only to meet client expectations but to exceed them. The repeat business we've enjoyed in 2011 means just as much to me as the new business. It's gratifying to have the respect and loyalty of our clients and it's gratifying for the Welsh business community to acknowledge our efforts with these prestigious awards."