AI translation is best suited for large volumes of text where basic comprehension is needed.
What is AI Translation?
Artificial Intelligence (AI) translation works by recognising terms and phrases in one language, and then restructuring them according to the rules of the new, chosen language. This service is best suited for large projects.
Here at Wolfestone, we add a personal touch to this service level, through our post-editing. What makes this solution so unique? Well, it's the fact that one of our professional linguists will read and check the text to ensure the meaning remains. This language solution is low-cost and combines the fast-turnaround times of ai-powered translation with the human quality of our expert linguists.
Interested in finding out more about this innovative service?
Ideal document types
Large volumes of text needed for understanding or informational purposes only.
Best for
Speedy turnaround and tight budgets.
Not recommended for
Publishable content that relies upon 100% accuracy and nuance.
How you could benefit from using language translation AI?
There are a multitude of projects and uses for AI, including:
Translating content quickly to get a general understanding of information in another language – preferably to be used internally. For example, employee handbooks, training manuals and timesheets.
Improving the productivity of human linguists - AI translations can be edited by a human in the post-editing process. This is useful for those on strict deadlines.
Translating instant, volume-heavy content such as chat, email, or customer support communications.
Adapting content that may be useful in another language, but where there is the insufficient budget.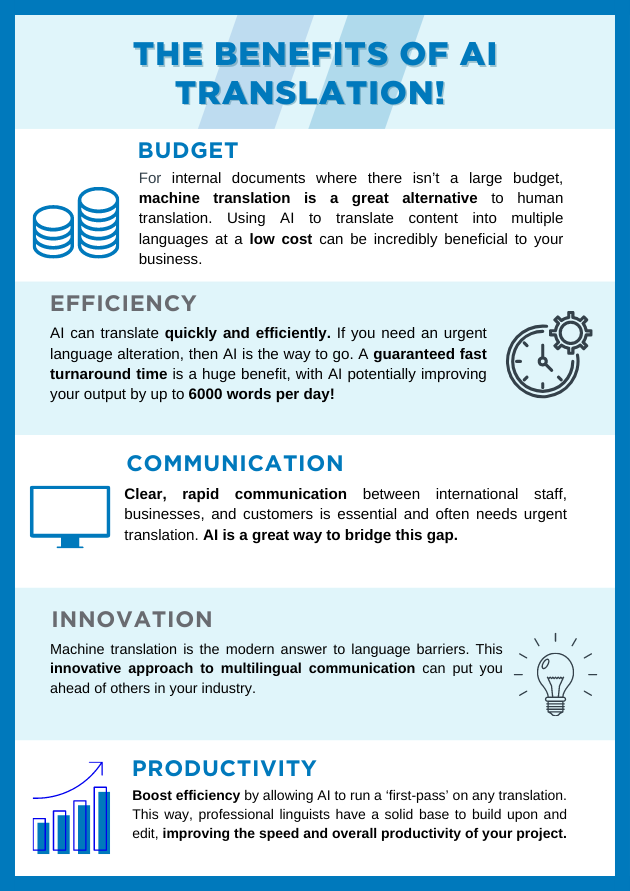 Tell us about your requirements for a quote in 60 minutes.
How does our professional AI translation service work?
Here at Wolfestone, we have a bespoke language translation engine. Our sophisticated, machine-powered technology is specifically tailored to each client, allowing you to build up a bank of personalised terminology and a Translation Memory on our secure network.
Due to this technology, there is no longer the need to process millions of words on a specific language pair or specialisation. This allows the highest quality output for everything from a single document to a large project.
Every Wolfestone client has its own bespoke engine, meaning your content will never be shared with another client. We have been accredited with ISO 27001:2013 which is the standard for Informational management meaning we can guarantee the highest confidentiality of your materials.
What is Translation Memory (TM)?
Translation Memory (TM) can improve the consistency, turnaround time, and cost-saving of your projects.
TM stores your source text in the original language and its corresponding target text in a database. This means that any previous or similar content will be a phrase match and automatically recognised. This type of solution is useful for industry-specific acronyms, terms, and phrases.
Every additional project can attract savings of 30%
What is Post-editing (MTPE)?
Machine Translation Post-Editing (MTPE) is the ideal solution for a speedy turnaround with human-guaranteed accuracy.
The translated content produced by our AI is sent on to a human linguist. They will edit any unnatural or difficult to understand segments, to ensure that the clarity of your message is maintained. Syntax and grammar errors will also be fixed at this stage. This service can be essential for texts that include culturally specific phrases such as idioms, where the meaning could be lost without a human's help.
Want to find out more? Contact us for a quick quote.
AI not right for you? Take a look at our other service levels...