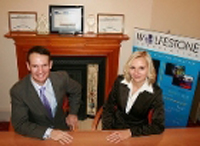 On Friday evening the Wales Fast Growth 50 Awards took place in Cardiff, celebrating the fastest growing companies in Wales. North Wales based Glyndwr Innovations, run by Glyndwr University took the main prize, however the biggest winner of all was the city of Swansea. The top ten fastest growing companies featured three Swansea based firms: Distribeauty, Save Britain Money Group and Wolfestone Translation. These three fast growth firms mean that Swansea contributes more companies than any other Welsh city to the top ten. Additionally, out of 11 individual category awards celebrating growth success in specific sectors and industries, five were won by Swansea based companies. Language firm Wolfestone Translation was in the top fifty for the second year running, having moved up from last year's 14
th
to 6
th
place and co-founding director Roy Allkin was delighted:
"We were excited to win our prestigious award and are really pleased with our sixth place finish. We have invested in new technology, doubled our staff numbers in the last year and worked hard to exceed customer expectations. For all the doom and gloom out there, it is possible to consistently and sustainably grow a business.
Roy Allkin, speaking after winning the Fastest Growing Business in the Business and Professional Services category, believes the awards are representative of the strides the city has made from a business growth perspective.
"To have nearly half of the awards heading to Swansea, and three businesses from Swansea in the top ten, that is really something to be proud of. Time again we have said Swansea is a great place to do business from, and the city's success in these awards proves that"
While Swansea as a city came away from the awards with a lot to shout about, the awards showed that Welsh business in general has the ability to be dynamic and adapt to a rapidly changing global economy. And with a nomination for director Anna Bastek for the Institute of Directors National Award coming up next month, Wolfestone Translation can lead the charge.