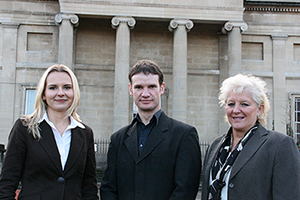 Wolfestone Translation has linked up with Vibe TV to help companies promote products, services and business, both home and abroad in this difficult economic climate.
A collaboration between the two companies means that we can now provide multi-lingual corporate DVDs, Video Podcasts for the web, and training films for all areas of the commercial world, so whether a company is looking to promote business here or overseas they can reach existing/potential clients at the click of a button.
Once the short informational film is made, new media means that it can be e-mailed, sent to a mobile phone or downloaded to an i-pod…in addition to the normal uses of putting it onto a website or using it in the reception area….and once the film is made, the voice over can be dubbed into any language.
Sue Powell-Reed the Director of Vibe TV has over 30 years experience in the broadcasting industry with ITV. She says, "We are delighted to be working closely with Wolfestone, and together we can offer fresh and innovative ways of publicising campaigns and raising awareness, attracting the attention of a worldwide audience. Corporate DVDs are now a vital part of the standard marketing package and the synergy between our companies means that we can deliver a coherent universal message that crosses all boundaries."
Anna Bastek, Director of Wolfestone Translation added, "The downturn in the global economy means that it is that even more important to communicate to customers – wherever they are in the world and in innovative ways and media – effectively and in their native language."
"By translating marketing material and videos, our customers can communicate with potential customers who speak a language other than English as their mother tongue. This one move could help you to communicate with or sell to millions of extra customers. It can add to your customer base and improve your bottom line."
The companies will also work to develop 'Training DVDs' aimed at complying with specific training needs and national standards. Corporate responsibility is inherent in terms of training and development, and DVDs on relevant issues such as Health & Safety save both time, and therefore money in the long run. Business' can ensure that high training standards are met internationally by producing the same film across the world in that particular country's language.
Sue added, "Businesses are now beginning to realise that Video is the best way forward for both marketing and training. It can be used over and over again, and is competitively priced against an expensive one off printed advert. A film provides a consistent and cost effective commercial, and can be added to or changed, and even translated into any language."
So if you're hoping to expand your business, please get in touch. Vibe TV and Wolfestone Translation look forward to helping you aspire to new markets…