Oven Love: Wolfestone holds bake-off comp in aid of cancer charity
April 15, 2019 Wolfestone held its annual Great British Bake Off-style competition on Monday the 15
th
April in aid of
Stand Up To Cancer
. For the fourth year running the company's budding bakers put their culinary skills on the line and subjected themselves to the scrutiny of their colleagues, who awarded them points for taste, texture presentation and creativity. As in previous years, the standard was high and the variety of dishes was as wide as our stomachs at the end of a rather epic tasting session.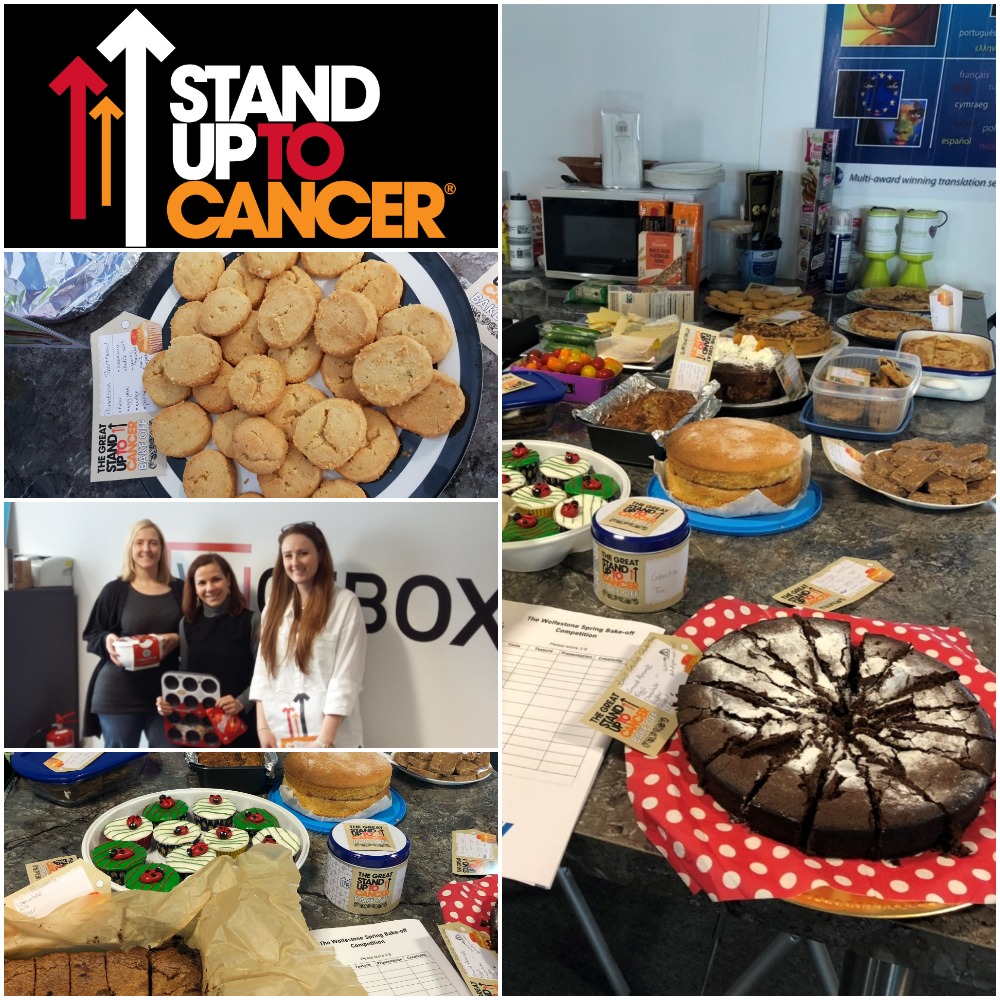 [/ Entries that tantalised our taste buds included ladybird cupcakes, a cheese and maple-cured bacon quiche and a stunning Italian pear and almond pie. Savoury dishes were outnumbered by sweet, but the one that emerged as the worthy winner managed to combine the best of both worlds. Our account manager Olivia Lawton, whose parmesan shortcakes were the perfect blend of savoury and sweet, was awarded a Bake-Off cooking apron for taking the number one spot. [/ "I'm quite proud to win my first Wolfestone bake-off as I only made them this morning," she said. "Parmesan shortbread is one of my favourite things to make because they're quick and easy. It's a simple recipe my mum used to make, and I've added my own twist - garlic and truffle salt." Second prize went to Senior Account Manager Helen Courtney-Hinsch for her bite-sized protein bars. Third prize was the mysteriously named "special cake", containing chocolate and lime, made by our Operations Manager Lucia Tarantola. Managing Director Alex Parr, whose entry was an accomplished steak and ale pie that narrowly missed out on third place, said: "We've held the bake-off four times now and the standard of entries seems to be getting higher every year. It's great to see our staff so keen to participate in this, especially for such a worthy cause as Stand Up to Cancer." Members of the Wolfestone team paid £3 for the privilege of sampling the dishes and we raised a total of £50.46 for Stand Up To Cancer.
Stand Up To Cancer
Stand Up To Cancer is an annual fundraising campaign that brings the UK together to speed up progress in life-saving cancer research. Stand Up To Cancer funds research, which takes developments in the labs and accelerates them into brand new tests and treatments for cancer patients who need them.