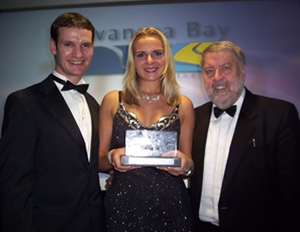 Wolfestone Translation continues to impress by winning yet another award, this time at the prestigious Regional Business Awards. Competing in the Young Business of the Year category, Wolfestone was the outstanding nominee for the award and managed to hold off stiff competition from a host of other candidates. The Award was presented by BBC personality Roy Noble at the glittering event held at the magnificent Parc y Scarlets stadium.
Carmarthenshire County Council's Jamie Reynolds, who sits on the Swansea Bay Partnership said: "The standard of entries was extremely high this year and we were delighted by the number of entries. The business expertise we have here in the Swansea Bay region is superb and finalising the shortlists was a very difficult task. A number of factors were taken into consideration and there was a lot of discussion about every single nomination we received."
Wolfestone Translation was founded by Anna Bastek and Roy Allkin in 2006 and they continue to drive the business forward. Wolfestone is renowned for the excellent service it provides to other businesses across the globe. Roy Allkin said "Wolfestone is proud to have won such a prestigious award, particularly as it recognises our innovation, customer service and strong business acumen. Furthermore, our success at the Awards is a reflection of Wolfestone's passion and commitment to languages and communication, as well as the hard work of our team. We are so proud of what we have achieved and the great people we have working at Wolfestone Translation."
As well as translation and interpreting, the company has now added a variety of additional language services such as subtitling, transcription, voiceover and specialist proofreading, to name but a few.
The company has recently moved into larger premises in the centre of Swansea to accommodate their enlarging team as their business continues to grow and expand both in the UK and globally. Wolfestone have a European office based in Germany and ambitious plans to expand their overseas operations to the USA, China, the Middle East and Russia.
As Wolfestone Translation continues to expand in markets around the world, it is essential to ensure that clients will receive the highest quality service. To ensure this , Wolfestone has recently been independently certified to the quality management system ISO 9001:2008 and the environmental standard ISO 14001:2000. Wolfestone are also one of very few translation companies independently certified with the new British Standard EN 15038. The quality framework will assure its customers that they will continue to receive consistently excellent service from Wolfestone.
In November 2008 Wolfestone won the South Wales Business Awards award for "Business Services Business of the Year" and were also runners-up in the UK final of the FSB British Small Business Champions awards in the Most Promising New Business category.