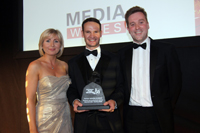 Swansea based company Wolfestone Translation has picked up two new awards in the regional Chamber Awards 2012, organised by the South Wales Chamber of Commerce. These new awards mean October has kicked-off much in the same way as September finished for the translation services company. A busy September saw Wolfestone, the sixth fastest growing company in Wales, win three awards across the region. The first of these was the award for fastest growing Professional Business Services Company in Wales, at the Fast Growth 50 Awards. This was followed by Marketing Director and co-founder Anna Bastek winning both the Rising Star award and the overall Swansea Bay Woman of the Year award at the inaugural Evening Post and Swansea Business Life Woman of the Year Awards held at the Dragon Hotel in Swansea. This week's new prizes at the Chamber Awards 2012 saw the company win the prize for Commitment to People Development, as well as the overall award for Business of the Year. These are the sixth and seventh awards for Wolfestone this year.
Anna Bastek was delighted with the awards:
"It is with great pleasure that we accept these awards. We continue to invest during difficult economic times. Just this week we have two new staff members starting, in a drive to grow the business further. Awards like this help reiterate to us our belief that we are doing things the right way."
The regional win means that Wolfestone has qualified for the National Awards at the Guildhall in London on November 20th, with a chance to bring more awards – and good news - to South Wales.